Mediterranean Diet Recipes
by Chef Judith
Mediterranean Diet Recipes
Recipes By Chef Judith Fine-Sarchielli
The Mediterranean diet has been shown by many studies to be one of the healthiest in the world.
Fresh, organic and tasty.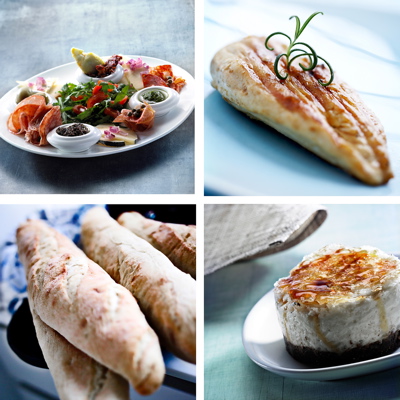 Small amounts of tasty quality food fill you up and stop food cravings.
Chef Judith Fine-Sarchielli lived in Tuscany for over twenty years, where she became an expert in the traditional Mediterranean Diet.

She's been a personal chef in over 100 households.
Chef Judith has over thirty years experience as food coach, food writer, researcher, and culinary instructor, and specializes in personalized menus for dietary needs.

Following are some of her favorite Mediterranean Diet recipes.
The Mediterranean Diet is anti-aging and defends against diseases.
People who follow a Mediterranean-style diet are less likely to develop mild cognitive impairment,
a stage of memory loss often leading to Alzheimer's.
A Mediterranean diet also protects minor-memory impairment from transitioning into Alzheimer's. AND - it defends against heart disease and many forms of cancers.
Imagine keeping yourself healthy with every meal and skipping disease, meds and physical decline. Natural Cures are worth checking out!
The Mediterranean diet consists of fish, vegetables, legumes, fruits, cereals, and olive (and canola) oil (unsaturated fatty acids) and a moderate amount of red wine.
There are less dairy products, meat, and saturated fats (causing "bad cholesterol") including coconut oil. Exercise is another component of any diet - and will protect you from many sedentary-type ailments.
"More and more data are showing the
connection between lifestyle
and cognitive decline.


People should start paying attention now,
regardless of your age or stage in life,
It may be when you are in midlife,
when you are in your 40s or 50s,
what you do then with respect to your
lifestyle -- your diet, your weight,
your activity level -- may have a bigger
impact on what's going to happen to you
at age 70 and beyond than
if you wait until you start getting a
little forgetful or a little bit fuzzy."

Dr. Ronald C. Petersen
Sample Mediterranean Diet recipes and see how much better you feel.
Mediterranean Diet antipasti and salads.
Mediterranean Diet main course recipes
Mediterranean Diet dessert recipe
Mediterranean Diet antipasti and salads.
Antipasti literally means "before the pasta."
Composed Mediterranean Salad.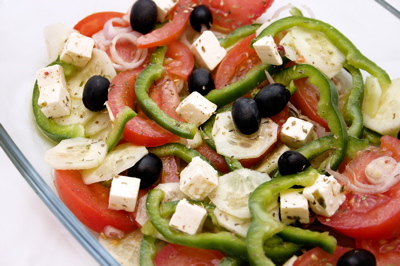 Dressing or dipping is often olive oil and lemon juice.
Pasta is traditionally the first main course, the antipasti (or antipasto) is the appetizer or hors d'oeuvre.
Composed salads, such as beets, green beans, potatoes, tomatoes, are all nicely sliced and arranged symetrically on a platter with fresh basil and olive oils sprinkled on top. Worthy of a Renaissance artist!

Or mix together. Worthy of a Modern artist.
Chef Judith: "Italians use a vinaigrette of olive oil and lemon juice. That's it. No Balsamic, as that is only good for stronger flavors than lettuce. But then, Italians don't eat a lot of green salads."
Summer Panzanella
by Chef Judith
(Serves 4)
INGREDIENTS
3–4 lbs., any and all kinds and colors of the best vine-ripened tomatoes, chopped

1 English cucumber, chopped coarsely

1 red onion, chopped coarsely

2 cups day-old Ciabatta or other peasant-type bread, crust removed, and cut into 1 ½-inch cubes

2 tbsp. balsamic vinegar

1 handful fresh basil leaves, torn

1 TB best quality olive oil

Sea salt and freshly ground black pepper to taste
METHOD
In a large bowl, add cucumbers and tomatoes, sprinkle with sea salt, mix well, and let rest for ½ hour. The salt will draw out the acids that are hard to digest.
Meanwhile, in a medium bowl, soak bread for 10-15 minutes. Squeeze out water.
Drain liquid from tomatoes and cucumbers.
Add vinegar, basil and salt and pepper to taste.
Add bread and toss with tongs or hands.
Spoon Panzanella into each of four shallow soup bowls and garnish with sprigs of basil.
Serve room temperature or cold as desired. A perfect picnic food, as it travels well. Will keep for 2 to 3 days.
Chef's tips: Bread can also be toasted and rubbed with garlic for a more aromatic tasting salad. Add shrimp, chicken, lamb, or beef for a main course. Use packaged croutons instead of bread.
For leafy green salads, also try Isabelle's French Riviera salad dressing. Use Balsamic or raw, unfiltered apple cider vinegar. Adjust the amounts for the size of salad. Serving 4-6: use 1 tablespoon mayonnaise, 1 teaspoon spicy mustard, ¼ teaspoon black ground pepper and spices of choice (oregano, basil, sea salt, hot peppers, thyme, garlic.) Make a paste, then whisk in olive oil, then vinegar to taste. This dressing won't separate in the salad and disperses the flavors evenly.
Mediterranean diet main course recipes.
Caponata - (Stewed Sicilian Sweet-Sour Vegetables)
Parmesan-Crusted Polenta With Sausage-Mushroom Ragout
Baked Chicken Breasts with Parmesan-Garlic Crust
Bufallo and Pancetta Meatloaf
Caponata (Stewed Sicilian Sweet-Sour Vegetables)
(Serves 6)
INGREDIENTS
3 medium Japanese eggplants, chopped into 1 ½-inch pieces

2 TB sea salt

4 TB grape seed oil

1 large yellow onion, coarsely chopped

4 cloves garlic, peeled and chopped

2 ribs celery, thinly sliced crosswise

1 tsp Chile pepper flakes

3 ripe medium tomatoes (about 1 lb.), cored, peeled, and coarsely chopped

2 TB Balsamic vinegar

3 anchovy filets, chopped

3 TB golden raisins

2 TB pine nuts

2 TB capers, rinsed

12 pitted green olives, such as Cerignola, coarsely chopped

1 red Bell pepper, roasted, and sliced into 1 ½-inch strips

Sea salt to taste

1 TB extra-virgin olive oil

½ cup basil leaves, torn

1 cup Italian parsley, chopped
METHOD
Put chopped eggplant into a colander set over a large bowl; toss with 2 tablespoons sea salt. Top with a plate weighted down with several large cans; let drain for 1 hour. Rinse eggplant well, and pat dry with paper towels.
Heat 1-tablespoon grape seed oil in a large, heavy skillet over medium-high heat. Add one-third of the eggplant and cook on a high flame until golden brown, 7–8 minutes.
Using a slotted spoon, transfer eggplant to a bowl. Add another tablespoon grape seed oil, or as needed and sauté remaining eggplant.
Reduce heat to medium-low and add remaining 2 tablespoons grape seed oil, onions, garlic, and Chile pepper flakes and cook until soft, around 10-15 minutes, being careful not to burn the garlic. Add tomatoes, and increase heat to medium; cook until tomatoes release their juices, 5–6 minutes.
Add anchovies, vinegar and cook stew until thickened, 3–4 minutes. Add cooked eggplant, raisins, pine nuts, capers, olives, roasted peppers, and salt to taste.
Simmer until hot. Stir well and transfer to a plate; let cool slightly, drizzle with olive oil and sprinkle with parsley and basil. Serve at room temperature or cold.
Chef's tips: You can vary the texture by the length of cooking time. More cooking will result in a smoother texture. You can also put in a food processor and blend it to make a paste-like spread. Travels well for picnics as an appetizer or salad.
Parmesan-Crusted Polenta With Sausage-Mushroom Ragout
(Serves 4)
INGREDIENTS
2 pounds precooked polenta (in a tube), cut into 4 (1/2-inch-thick) rounds

1/3 cup grated parmesan

2 tablespoons olive oil, divided

1 pound sweet Italian sausage, casing removed

1/2 pound mixed sliced fresh wild mushrooms

1/2 cup dry red wine

1 1/2 cups bottled marinara sauce

Accompaniment: grated parmesan
METHOD
Serve baked veggies Mediterranean style.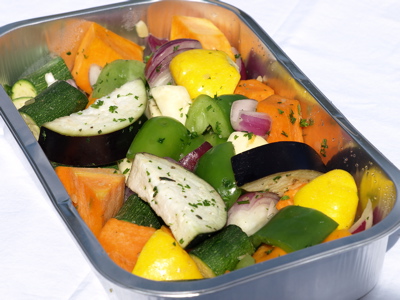 Season with fresh herbs and spices, olive oil and lemon juice.
Preheat broiler.
Broil polenta rounds on a lightly oiled large heavy baking sheet 3 to 4 inches from heat until lightly browned in spots, about 7 minutes. Turn rounds over and sprinkle with cheese, then broil until polenta is golden in spots and cheese is melted, about 7 minutes more.
Meanwhile, heat 1 tablespoon oil in a 12-inch heavy skillet over high heat until it shimmers, then cook sausage, breaking up lumps, until just cooked through, about 4 minutes. Transfer to a bowl.
Heat remaining tablespoon oil in skillet over medium heat until it shimmers, then cook mushrooms, stirring occasionally, until softened, about 3 minutes. Add wine and boil, scraping up any brown bits, until reduced by about half, about 2 minutes.
Stir in sausage and tomato sauce and simmer, stirring occasionally, 5 minutes.
Season with salt.
Serve ragout spooned over polenta.
Baked Chicken Breasts with Parmesan-Garlic Crust
(Serves 4)
INGREDIENTS
1 cup fresh breadcrumbs

1/2 cup Grated Parmesan cheese

3 cloves minced garlic 2 tablespoons extra virgin olive oil

1/2 teaspoon table salt coarsely ground black pepper

4 boneless, skinless chicken breasts (6 to 7 ounces each), trimmed

1/4 cup minced fresh basil

1/4 cup mayonnaise

Lemon wedges for serving
METHOD
1. Adjust oven rack to upper-middle position and heat oven to 425 degrees. Combine breadcrumbs, Parmesan, garlic, oil, salt, and pepper to taste in bowl.
2. Pat chicken dry with paper towels and transfer to 13 by 9-inch baking dish. Combine basil and mayonnaise in small bowl and spread mixture evenly over chicken. Sprinkle breadcrumb mixture over mayonnaise, pressing lightly to adhere.
3. Bake until crumbs are golden brown and instant-read thermometer inserted in thickest part of chicken registers 160 degrees, 18 to 22 minutes.
Serve with lemon wedges.
Bufallo and Pancetta Meatloaf
Serves 6-8.
INGREDIENTS
Buffalo (bison) is a low-fat, high protein alternative to beef. [Cook rare to medium rare as buffalo becomes tough when overcooked.]

1 pound sliced pancetta (Italian unsmoked cured bacon)

coarsely chopped and divided

2 medium onions, diced

4 garlic cloves, diced

2 celery ribs, diced

1 carrot, diced

1/2 cup fresh flat-leafed parsley leaves, chopped

1 tablespoon fresh rosemary, chopped

3/4 cup ketchup

3/4 teaspoon salt

1/4 teaspoon freshly ground black pepper

1 tablespoon Worcestershire sauce

1 3/4 cups fine fresh bread crumbs

2 pounds ground buffalo* or ground beef sirloin

2 large eggs
METHOD
Preheat oven to 375°F. Coarsely chop 3/4 pancetta and in a large heavy skillet cook over moderate heat until crisp and golden, transferring to paper towels to drain. Cool pancetta and reserve fat in skillet. Cook onions, garlic, celery, and carrots in reserved fat over moderate heat, stirring occasionally, until onions a are softened.
In a large bowl stir together chopped pancetta, onion mixture, parsley, rosemary, 1/2 cup ketchup, salt, and pepper, Worcestershire sauce, bread crumbs, buffalo, and eggs until just combined (do not over mix). In a shallow 13" x 9" baking pan form mixture into a 10" x 5" oval loaf and spread remaining 1/4 cup ketchup onto it. Drape remaining pancetta slices in crisscross pattern over loaf.
Bake meat loaf in middle of oven 1 hour and 10 minutes, or until a meat thermometer inserted 2 inches into center registers 160°F. Let meat loaf stand 10 minutes and slice.
Chef's tips: Use Organic local products whenever possible. Serve meat loaf with olive oil and garlic whipped potatoes.
Mediterranean Diet dessert recipe.
Fruit is often served after a meal as the dessert. Iced fruit is a favorite in warmer weather and can be made with fruit and ice then, blended just before serving. Garnish with a sprig of mint.
Chilled Lemon or Lime Souffle (Serves 2 to 3)
To make this lemon soufflé ' over the rim of the dish, use a 2 cup soufflé dish and make a foil collar for it before beginning the recipe. For those less concerned about appearance, this dessert can be served from any 1 quart or 3 cup serving bowl. For best texture, serve the soufflé after 1 1/2 hours of chilling. It may be chilled up to 6 hours; though the texture will stiffen slightly because of the gelatin, it will taste just as good.
INGREDIENTS
1/4 cup lemon juice from 1 or 2 lemons 1 1/4 teaspoons grated lemon zest (grate before juicing)

1 teaspoon gelatin , unflavored

1/2 cup whole milk

1/3 cup granulated sugar 3 large egg whites at room temperature, less one tablespoon

1 large egg yolk , at room temperature 1/8 teaspoon cornstarch

1/3 cup heavy cream

Pinch cream of tartar fresh mint leaves , raspberries, confectioners' sugar, or finely chopped pistachios for garnish (optional)
METHOD
1. Place lemon juice in small nonreactive bowl; sprinkle gelatin over. Set aside.
2. Heat milk and two tablespoons sugar in small saucepan over medium-low heat, stirring occasionally, until steaming and sugar is dissolved, about 3-4 minutes. Meanwhile, whisk together yolks, 1 tablespoon sugar, and cornstarch in medium bowl until pale yellow and thickened, 3 to 5 minutes. Whisking constantly, gradually add hot milk to yolks. Return milk and egg mixture to saucepan and cook, stirring constantly, over medium-low heat until foam has dissipated to a thin layer and mixture thickens to consistency of heavy cream and registers 185 degrees on instant-read thermometer, about 2-3 minutes. Strain into medium bowl; stir in lemon juice mixture and zest. Set bowl of custard in large bowl of ice water; stir occasionally to cool.
3. While custard mixture is chilling, with hand mixer beat egg whites and cream of tartar in medium mixing bowl on medium-high speed until foamy, about 1 minute. Increase speed to high; gradually add remaining sugar and continue to beat until glossy and whites hold soft peaks when beaters are lifted, about 2 minutes longer. Do not overbeat. Remove bowl containing custard mixture from ice water bath; gently whisk in about 1/3 of egg whites, then fold in remaining whites with large rubber spatula until almost no white streaks remain.
4. In same mixer bowl (washing not necessary), beat cream on high speed until soft peaks form when beaters are lifted, 2 to 3 minutes. Fold cream into custard and egg-white mixture until no white streaks remain. Pour into prepared soufflé dish or bowl. Chill until set but not stiff, about 1 1/2 hours (can be refrigerated up to 6 hours, see note); remove foil collar, if using, and serve, garnishing if desired.
Chef's tips: STEP BY STEP: Creating a Souffle Top
1. Cut a piece of foil 3 inches longer than the circumference of the soufflé dish and fold it lengthwise into fourths.
2. Wrap the foil strip around the upper half of the soufflé dish and secure the overlap with tape. Tape the collar to the soufflé dish. 3. Carefully remove the collar before serving.
Can you spare two minutes? If you haven't yet, why not enroll in the free mini-home study program. "21 Days of Insights" open up your creative potential and reveal limiting habits - then the path to healthy and wealthy Good Fortune becomes clear and easy to follow.
It takes an extra minute to avoid spam - here's how....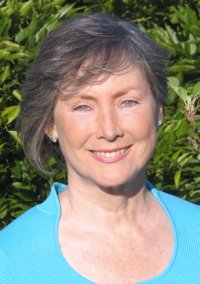 When if not now? Begin today
you'll be glad you did!
- please check your e-mail and confirm with a click it's really you.

Your information is secure, I don't share addresses.

After you confirm - then your first Insight arrives today.

Then another Insight follows every 5 days.

You'll also get a weekly "Good Fortune Tip" on Thursday - articles to inspire, delight and keep you on track and creating your Dream. You may cancel at any time.

Articles and Tips for Health and Wellness as a Lifestyle
Home remedy herbs and cures are natural solutions that can often be grown in your garden or available at local farmer's markets or health food stores. Common sense and this practical guide can solve most health issues long before they become a problem. All symptoms are the result of internal problems and most can only be permanently healed when the body is brought back into it's natural balance. Diet, exercise and home remedies are a proven and certain natural path to health and wellness.
Get Healthy (or Wealthy) in 9 Easy Steps. Give this great insight a try- Attract health and wealth easily. Change how you see health and your health changes. Try this new unique approach. Do it – reinvent your mindset and get the results you want. Only 9 easy steps away.
Superfood Honey and Bee Pollen can instantly build energy and clear your mind. Raw honey and pollen contain all essential minerals, B complex, amino acids, enzymes; and can prevent cancer and Alzheimer's. Give up supplements and switch to natural nutrition - and save money. Try this natural cure for allergies or the traditional home remedies including cinnamon. Begin with a natural remedy and make natural health and wellness your lifestyle.
If You Can Change Your Diet – You Can Change Your Life is a great guide to making health changes stick– Why is dieting difficult? Changing genetic habits demands a new level of thinking. Take an entirely new approach and get results easily and quickly. As you expand your consciousness - new opportunities in all areas of your life open up: Attracting Health and Wealth is easy and fun. It begins with changing habits.
Natural Cures & 7 Step Plan Is looking for natural cures keeping you sick? Try a new approach and find healthy lasting results. Stop the underlying stress aggravating the dis-ease and you find a real natural cure. Try this simple 7 step plan and turn your life around. Easy and simple to follow. It takes 21 days to imprint a new healthy habit - get started today.
If you're seeking Health and Wellness Naturally - You're in the RIGHT PLACE!
Do you want QUICK changes for the better?
Train your mind just like
you train your body with exercise:
change habits and stretch your limits.

Feed your mind a healthy diet
just like you feed your body:
EVERY DAY!
Feed and train your mind-like you feed your body: 5 times a day!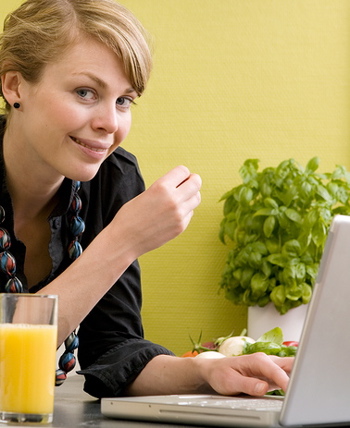 Build a new habit, then your own momentum will propel you into Good Fortune.
Repetition works
Bookmark this site
Visit the tips and methods
on each topic -
they are designed to get you
where you want to be:
Living in your Good Fortune!
Return To Quick Good Fortune. Home Page
Thanks for Visiting


Bookmark and come back soon.